So I've been asked to build, what's being called, "the evil genius control desk". In reality it's a studio lighting and audio control solution that has some unique features.
The studio space in question is divided into several areas and split over two levels. It needs multi-channel lighting and audio control for each area, and some additional features that I'll explain at another time. It also needs a security monitoring function and environmental control function.
After speaking with the customer, we drew up a list of requirements.
Direct control of lighting and audio in three areas.
Lighting should consist of six lighting channels with each channel having colour and intensity user controllable.
Each area needs to be able to have audio; from multiple sources, piped on; including a "talk over" voice option.
The audio sources need to be MP3 and Bluetooth.
Because the main part of the studio is underground, it needs to have temperature and humidity monitoring and control.
It's needs to be fairly compact, but with room for expansion.
It needs to be cheap to do since I'm paying for it.
This is one of those projects that I found it difficult to know where to start.
First thing was to design a panel layout and it quickly became apparent that this wasn't going to be done as one large panel and so it would need to be modular.
The final design is below is is just under 1 meter wide.
The base panel is a 4mm aluminium sheet that's had cut out's made for the modules. Each module is then an acrylic face plate with the controls mounted to it, and behind that one of more PCB's in a stacked configuration.
This should make it easy to exchange a faulty module or do upgrades as required.
Step 1, get a piece of aluminium, mark out the panel locations and start cutting and filing.
This part drove me nuts. Marking out the rather expensive aluminium sheet, cutting the holes with an electric jigsaw (which I'm incapable of cutting a straight line with), filing everything square, realising that I've not made the cut outs large enough so having to spend the next two days with a power file making the cut outs larger.
Then drilling the holes and installing 80 odd M4 threaded rivets so I have mounting holes to attach each module too.
I really didn't enjoy this part of the build, but, it turned out ok and I'm pretty pleased with the result. It needs a good sand down and painting but it should look ok when it's done.
Whilst planning this part of the project and working up the courage to start cutting into the blank panel, I started design work and fabrication of one of the audio modules.
I'll cover each module in detail later on and how I created the panels but for now, the video clip below shows one of the audio mixer prototype modules on the bench being tested.
The panel is back-lit with RGB LED lights that are currently running a test pattern. There is also some light bleed through from the back lights to the VU meter LEDs that I'll need to cure.
All in all I'm pretty happy with the results of this so far.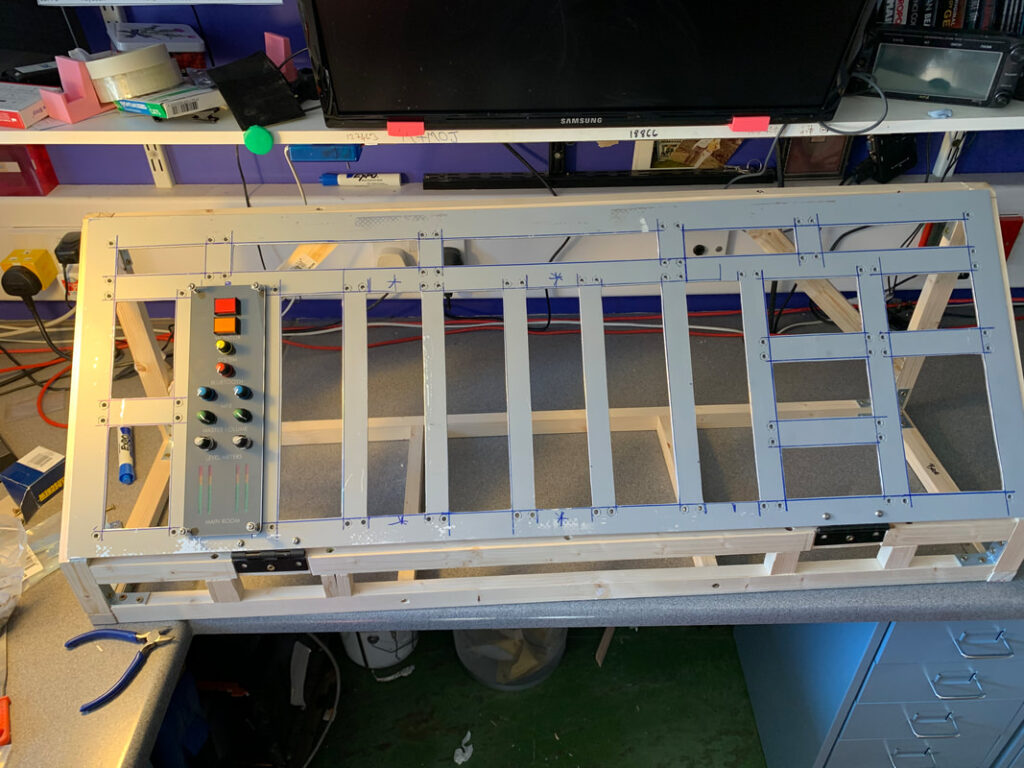 The above image shows the wooden frame that will be fixed to the wall. The panel is mounted on hinges so can drop down for access. The frame will be covered with aluminium panels and painted.
I'm a bit worried I don't have enough space inside the frame however. I've got to get a PC style PSU in there, two 120amp 5v PSUs, and a ton of screw barrier strips plus some other stuff. I've measured everything and on paper it all fits, but these types of projects never go to plan for me. 
​More soon.